Can you imagine how life would be like if you could connect everything to the Internet? Not only personal computers and cell phones, but every single thing such as clocks, speakers, lights, doors, cameras, windows, window blinds, hot water heaters, appliances, cooking utensils, you name it. Now think about what it would be like if those appliances could all communicate, send you information, and take your commands? All this is not science fiction; it's the Internet of Things, which is an essential component of home automation and smart homes.
Home automation is basically being able to control appliances around the house—from window blinds to pet feeders—it is as simple as pushing a button or using a voice command. Some activities, such as turning a lamp on or off, are easy and relatively affordable. Others, like enhanced surveillance cameras, might need a little more serious investment of time and money.
You'll find so many smart home device categories, which enable you to control anything from lights and temperature range to locks and security in your home. Here's our list of the 6 best home security and automation products of 2017 we think would be most suitable for your house.
1) Piper Home Security:
Piper offers home security alarm systems, video surveillance, and home automation all combined into one high-tech device. It is actually a convenient option for a smaller house or condo, but can also be adapted to larger homes.
Piper is a very futuristic looking home security system. It is equipped with a motion detector, built-in mic, and siren in order to help detect and protect your house from a burglar. It has a battery backup so you can always feel secure. If Piper detects a loud noise or any kind of movement while you are out, then it will instantly contact you with the video footage. If for any reason, you are unreachable at that moment, Piper gives you the ability to include trusted friends and family to your contact list in case you are unavailable. That way they will receive the notification and can find out if it was an intruder or if your cat knocked a plant off the table.
Piper, home security system is very easy to install and setup. You can set rules for while you are away from home so your system does what you want it to do. It conveniently communicates with you via texts and call. It can even notify you through email alerts.
There are no contracts or monthly fees with Piper plus the system can be easily relocated from one location to another. Which makes it an all in one solution for smaller homes and condos. Currently, Piper's app is available on the App Store and Google Play store.  You can get Piper's classic system for $149.99* and Piper NV for $279.99* today!
2) Abode Home Security:
The abode Do It Yourself (DIY) home security system is another ideal choice for monitoring your home's safety through notifications and an option-packed mobile application, but it still gives the choice to pay for on-demand surveillance while you're on vacation.
This is the most simple DIY security system in the market. Monitoring your house is very easy with abode's DIY home security system. The starter kit comes with the essentials you need to get started, which includes a motion-detecting surveillance camera. The abode system can completely automate various items in your house, including light sources, locks, and smoke alarms. It's also possible to customize the alerts you receive from the system. In the home security market, the abode is rated amongst the high-end security systems due to its ease of use, features, and capabilities.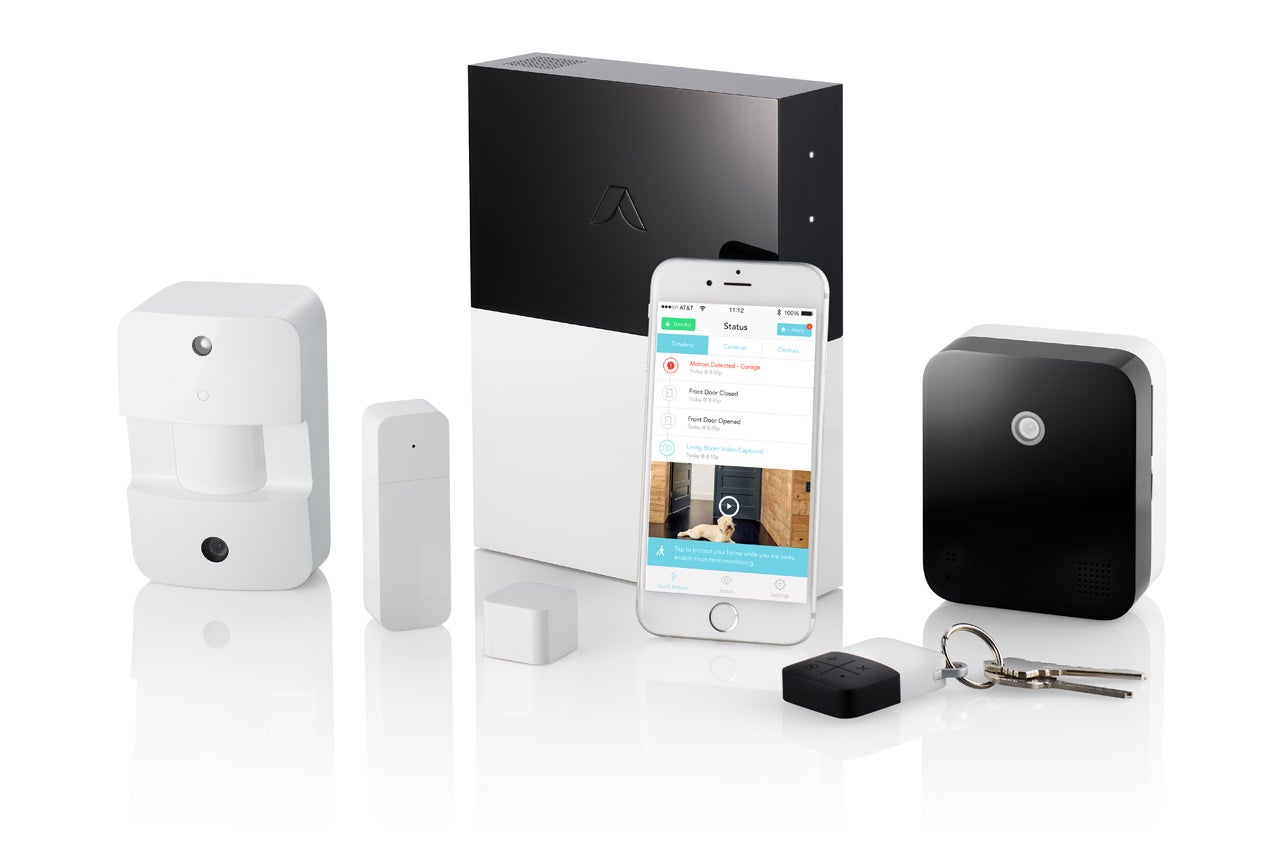 With abode you get a one-year warranty which abode offers for its devices, so make sure you keep your receipt in case you receive any defective pieces in your security starter kit. Having a monitoring plan with abode gives you access to the phone support feature which enables you to contact an abode representative for your questions or concerns. If by any chance you do not opt for the monitoring plan you can always get in touch with an abode staff member via email.
There are many reasons we consider abode one of the best DIY home security systems available in the market, including its reliability, no contract agreement, user-friendly mobile application and flexible monitoring plans. It comes with a pre-programmed key fob which makes life a whole lot easier. It also includes a loud alarm system, customizable alerts and plenty of home automation options. You can also buy extra pieces from abode to make your home safer. Along with extra door and window sensors, you can even add on glass break and vibration detectors, as well as a streaming indoor surveillance camera or an outdoor motion sensor with a camera.
As far as the pricing goes, abode's starter kit costs around $299* which includes 1 Gateway device along with 2 door contacts, a motion camera, and a key fob along with stickers.
3) Xfinity Home Security:
Other than cable and internet services, Xfinity also provides home security and home automation services through its wireless broadband network. This company has numerous equipment packages and advanced technology available—at a convenient price.
Xfinity Home comes with two security monitoring packages, Secure 300 and Secure 350, which you can combine with any of Comcast's other services, such as a cable or internet subscription to meet your needs and requirements. The cost for a 2-year service agreement ranges between $19.99*-$39.99* per month.
With Xfinity Home Security you can rest assure that the equipment you get is not old school. The company employs innovative technology in each of its plans, including touch screen wireless keypads, remote thermostat control, and mobile video monitoring.
Another advantage of using Xfinity Home security is that if you already have a home security system from a different company and wish to switch to Xfinity, you're able to choose your current equipment. This feature can be a significant money-saver simply because you won't have to buy a whole new equipment bundle when you switch.
If you know how to install your own system and wish to save some money, Xfinity Home Security offers you the choice to perform a DIY installation for free. However, if you would want to have a specialist install your home security system, you can get Xfinity's professional installation for $99*.
When you sign a contract, Comcast sends a professional to your house to install your security equipment. Using the Xfinity Home mobile app on Android and iOS smartphones you can control this equipment. The equipment warranty may vary based on the plan you select, for example, you get a limited warranty with Secure 300 and a lifetime warranty with Secure 350. For an additional charge, you can get a lifetime warranty on Secure 300 as well. In order to contact Comcast for customer care, you can do so by phone or live chat; as the company does not offer email support.
4) ViZion Ventures Security (Smanos):
From the wireless app-enabled alarm and sensor system to remotely monitored IP camera solutions, ViZion caters to home and business owner with versatile and mobile lifestyle solutions that ensure, safety, security, and control.
Marketed and distributed through California-based ViZion Venture's, Smanos is a security and monitoring system for the global residential, small offices/home offices (SOHO), and small business market. The complete Smanos smart system speaks to minimalistic elegance for the home and SOHO while still utilitarian enough for a business setting. The products are all self-installed and self-monitored from a smartphone providing 24/7 access to what's happening at your home or business.
In terms of customer benefits, it's very easy to get Smanos security installed without any credit checks. It is one of the most cost-effective solutions in the market and offers a fast and easy DIY installation. You don't even have to worry about long term contracts or setup charges with ViZion.
This security system is ideal for homeowners who own an apartment or condo and small business entrepreneurs. You can get Smanos W100i security and Video Monitoring kit for $329*.
5) Nokē Bluetooth Padlock:
The Nokē Padlock stands out as the world's first Bluetooth-enabled smart-lock. It was launched in the market through a crowd funded project last year and is responsible for developing a whole new category of gadget. It costs around $79.99* excluding the Fob and cover which are both sold separately on Nokē's website. Other than not having to be concerned about missing keys, the Nokē Bluetooth Padlock has a couple of other tricks underneath its shiny surface too.
Nokē (pronounced as "no key," obviously) looks like a standard steel padlock, without the combination or keyhole. It's sturdy and weighs about 11.25 ounces, but looks attractive as compared to other padlocks. A tiny light is located on the front of the lock which shows the status of the lock, as unlocked or locked. Nokē claims the padlock has anti-shim protective covering and is designed in order to prevent thieves from using any foreign object such as a bolt cutter to break through the shackle. The padlock is also weather-resistant, with a water-resistant IP66 rating, and is operational between the temperature ranges of -10 to 150 degrees Fahrenheit. Nokē's padlock runs on a 2032 coin cell battery that would last for more than a year. Changing the battery is really easy as it simply requires sliding the back cover when the shackle is unlocked. It's an uncomplicated process, and you are able to "jump start" a dead cell by pushing a new battery to the contact points located at the bottom of the lock.
Configuring Nokē is done with the free Nokē app. Users will be required to include their email, create a password, and name their lock — giving your lock a name makes it easy to differentiate multiple Nokēs from each other. As unusual as that may be, Nokē gives users the choice of managing multiple locks, all from the same application. During setup, users are able to choose between one-step and two-step unlocking. With one-step unlocking a user needs to be close to the lock with his or her phone for the app to connect via Bluetooth 4.0 to unlock the padlock. Whereas if a user chooses the two-step unlocking, it would prompt the app to unlock the padlock when in range. Additionally, there are two other options for unlocking — "quick-click," which allows users to create a Morse code-type series of clicks on the shackle to open the lock, and using a Nokē fob, which can be purchased separately for $25*.
Nokē's app goes a little further than merely unlocking. You could add multiple locks, share a lock with various users, assign fobs to locks, and even access the history of the lock — this mobile app will tell you exactly when a padlock has been locked or unlocked. The application is user-friendly and is an essential selling point for individuals who plan on getting multiple locks or sharing one lock with other users.
People wanting to buy a Bluetooth padlock definitely value the extra features and added convenience in contrast to much cheaper locks, and Nokē does an excellent job on these fronts. The quick-click unlocking feature is quite considerable, which in our opinion, will be used frequently by any user. All in all Nokē's Bluetooth Padlock is a good, tough smart lock that really performs well, and for that, it earns a definite recommendation.
6) Roost Smart Battery:
The Roost Smart Battery is an innovative and affordable 9-volt battery with built-in Wi-Fi and other smart features; this $34.99* Smart Battery is able to power up your smoke detector for 5 years, and can also notify you by sending an alert to your smartphone when it goes off. In other words, Roost Smart Battery is an inexpensive way to get more control over your smoke alarms and not having to install anything other than a battery.
Once you install the Roost App on your smartphone (iOS 7.0+ or Android 4.2+), you will need to create a free account by using your phone number. The app then provides you with an access code through a text message to complete the registration.
Next, the application inquiries about the location of your smoke detector that you will use with the Roost battery — the corridor, upstairs hallway, master bedroom, bedroom, kitchen area or a custom location.
After you type in your password for the Wi-Fi network you wish to connect to, the app requires you to place the battery and your phone parallel to each other on a table and instructs you to turn up the volume on your phone.
Your phone would then play a loud sound for a couple of seconds — similar to an old-school dial-up modem — to transmit data to the battery. Once the battery connects to your Wi-Fi, the app then requires you to install it in your smoke alarm.
This complete process takes about five minutes.
The Roost app looks very basic and is really user-friendly: The main screen shows which batteries have already been installed and their current state (for example "OK"). Selecting a battery brings up a screen displaying its current battery life, the last activity of the smoke alarm, its position and a Snooze button.
A settings section allows you to modify your account and add emergency phone numbers (like 911) as well as additional monitors. When you add a monitor — someone else other than yourself will also be contacted if the alarm goes off — it's possible to specify from which smoke detectors they're going to receive an alert. However, that monitor will also have to install the Roost application and create a registered account, too.
In case if smoke sets off your smoke detector, after about 2 seconds of blaring, you would receive an alert on your smartphone, and the Roost Battery's icon in the app would turn red. Shortly after this, you are given the option to call an emergency contact, view the other monitors or snooze the alarm.
If you've got interconnected alarms, when one of these sounds, the Roost will alert you, even when its battery is not installed in the alarm that went off.
The Snooze button disables the smoke detector for approximately 2 minutes, but this particular feature will only work with alarms that depend entirely on the battery for power. You are unable to "un-snooze" the battery manually; it will turn back on after a couple of minutes. Still, this is probably among the best features of the Roost.
Roost claims that this smart lithium battery can last for more than 5 years. And when the battery runs low, it will notify you through the application before the alarm starts ringing.
Once the battery is dead, you can take out the Wi-Fi module and buy a replacement battery for $9.99*.
So next time your battery dies in one of your smoke alarms, you should consider buying the Roost Smart Battery, as it would last up to 5 years. Also, the Wi-Fi technology in the Roost battery makes it convenient to turn any smoke alarm into a smart home device, and alerts you from a distance when it goes off. You might think that Nest Protect does more, but if you do not want to replace the alarms you currently have, Roost Smart Battery is the best option for you.
*(Above mentioned prices were noted when the article was published and are subject to change)